3 Solutions that Improve Higher Ed Enrollment Results: What took 6 Partners Now Takes 1.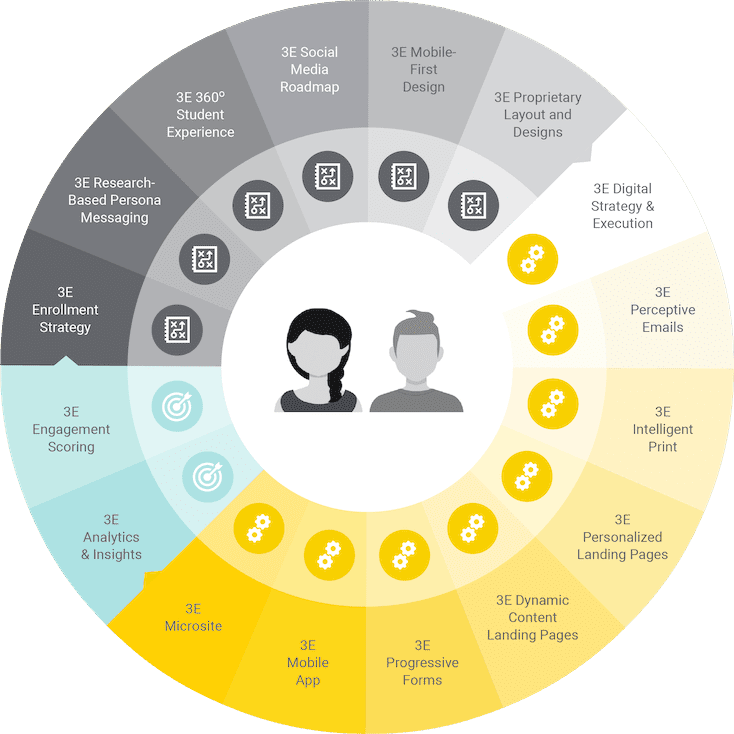 3 Enrollment Marketing is Modern Marketing Built for Higher Education.
As the 2019 NACAC National Conference begins today, many college and university admissions and enrollment professionals seek new solutions to improve their results.
The fact of the current higher ed environment is that it takes working with up to six service providers to assemble an enrollment marketing plan. 3 Enrollment Marketing, Inc. (3E) was built to change that.
"Marketing technology has increased 44-fold in the last eight years to support the rapid transformation in how we all—including students and families—seek to consume information and make decisions. This is incredibly challenging to keep up with, particularly in an era of limited budgets, staffing, and marketing tech skills. 3E plans to move higher ed forward, faster," said James Rogers, CEO.  
3E enables colleges and universities to partner with just one provider that does it all, producing modern marketing for a better return and better results, while also returning time to the days of busy enrollment and marketing leaders. 
Founded by longtime industry expert Patricia Maben and visionary marketing and technology leader Jim Rogers, 3E modernizes higher ed marketing.
Modern approach: Every member of an audience is coming to an institution from their own perspective. 3E's persona-driven messaging enables students and those who influence them to build their own experience. Audiences also happen to be overwhelmingly engaging via smartphone—which is why the approach is not mobile-responsive: it's mobile-first.
Modern marketing: Other approaches are channel-driven and siloed: even if incorporating mobile, digital, social, email, print, and web, the strategies for each are parallel and not well-integrated. But audiences don't have experiences within channels; their experience must transcend them. 3E enables a single, seamless experience that crosses and integrates channels.
Modern technology and insights: While historical predictive modeling has been a cornerstone of enrollment for years, in an era of such tremendous change—in audience demographics, in access to information, in public perceptions—it lacks utility today. It's much more informative to look at real-time scoring based on personal engagement—and, as 3E does, shape the messaging a person receives based on their own engagement.
At 3E, this approach is overlaid onto the specific recruitment needs and enrollment objectives institutions must meet:
3E Awareness: Building inquiries, interest, and engagement (Search 3.0) This campaign engages students, parents, peers, and counselors where they are online and offline, delivering a 360-degree experience that invokes action.
3E Conversion: Yielding and converting students at key decision points
A highly targeted campaign that engages students toward taking action at primary conversion thresholds: visit, application, deposit, and transfer. 
3E Advisory Services: Help when and where it's needed
As a partner with hundreds of years of experience in this industry, 3E can come off the bench and fill in to help an institution meet priorities. 3E Advisory Services provide a range of assistance that spans enrollment strategy to getting the details done now—such as e-mail, print, and digital copywriting. 
Learn more about 3 Enrollment Marketing's solutions. Follow us on Twitter for other details and tweets about how it all comes together.