3 Enrollment Marketing, Inc. to Present & Share Insights at the 2019 NACAC National Conference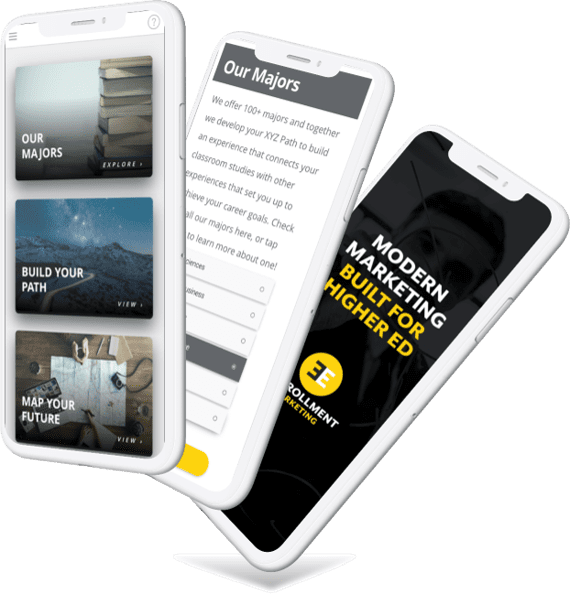 3E leadership presenting on how mobile trends drive the student experience.
Thousands of college admission professionals will convene in Louisville, KY this week for the 2019 NACAC National Conference to exchange ideas, learn best practices, and discuss core topics in the industry. In conference sessions and meetings with enrollment leaders, 3 Enrollment Marketing, Inc. (3E) will contribute fresh perspective and data-backed insights to these conversations.
While technology is always a big (and ever-growing) topic, 3E challenges admission and enrollment leaders to view it not in the context of channels, tools, or platforms by which to deploy recruitment messages, but in how technology shapes those messages—and how it can be used to drive the student experience.
In Thursday's Tech Lab session, "Mobile: More Than Technology, It's a Mindset," Patricia Maben, President of 3E, and Ben Hills of 3E partner Full Measure Education, will bring fresh perspective on building a mobile-first approach into enrollment marketing efforts. The presentation will focus on how mobile shapes the way students experience colleges and universities.
As Maben explains: "Mobile isn't a communication channel. Channels—email, digital advertising, websites, social media, as well as apps and texting—are experienced through mobile."
One look around the conference hall itself is proof of how smartphone-dependent we have all become. As the industry sees demographic changes that include more ethnic diversity, more first-generation, and more low-income students, that dependence is even stronger. The Pew Research Center reports that reliance on smartphones for online access (as opposed to home broadband access) is especially common among these audiences.
This annual conference is hosted by the National Association for College Admission Counseling, the largest professional development association of its kind.